Product Options
The Product Options available can be used to customize your weathervane.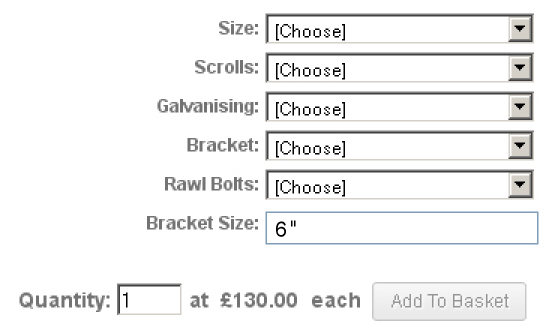 Size: Select Full Size for houses and Small for garden sheds or single storey garages.
Scrolls: Decorative scrolls sit directly below the cardinal points (N,S,W,E)
Galvanizing: Recommended for coastal regions or areas prone to metal decay.
Bracket: See the various options on our Bracket page (opens in a new window).
Rawl Bolts: For use with the Gable end or Chimney bracket when fixing to maisonary walls.
Bracket size: See the explanation on our Bracket page
Sizes
Select the size of your weathervane by assessing where it will be mounted and view from. The Full Size is appropriate for a house, and the Small size is more suited to garden sheds, single storey garages or outhouses.
Full Size measure 650mm(25") between compass points and are 650mm(25") - 1000mm(39") in length and 300mm(12") - 650mm(25") in height depending on the design.
Small Size measure 430mm(17") between compass points and are 450mm(18") - 600mm(24") in length and 150mm(6") - 380mm(15") in height depending on the design.
All weathervanes are sent flatpacked, ready for simple assembly and complete with a sturdy bracket which is tailor made to fit a gable end, chimney ridge or even a pole. If you have an unusual fitting feel free to contact us and we will be happy to discuss it.
Decorative scrolls can be added to the bracket. Place your cursor over image below to see the difference with and without scrolls: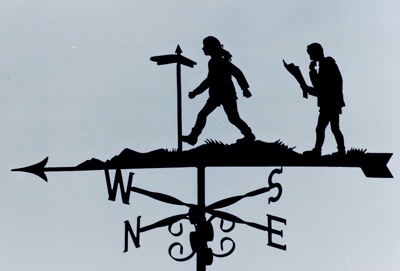 Galvanizing is highly recommended if you intend to site your weathervane in a coastal area or region prone to metalic corrosion. The finish, as with all our weathervanes, is still gloss black.
Rawl Bolts
Four Rawl Bolts can be ordered with your weathervane, for use with the Gable End and Chimney brackets when fixing to masonry. See image below: